Do you know that feeling, that the change you're working on isn't really all that hard -or at least it shouldn't be-, only to find that when the main things are sorted, the little things that go with it take up an incredible amount of time, effort and let's be honest, fuss?
We experienced this ourselves once again as well when we moved to the UK for a few months last year. And it's what we see happening all the time in organisational changes. *Especially* when they seemed fairly straight-forward on paper.
Obviously, our move was quite a thing to do for all of us, especially the kids. But on the other hand, once the decision was made it was fairly straight-forward to prepare. We found a cottage to rent in the right area, arranged someone to live in our house in the Netherlands, we managed to sort out a school for the boys in the end and had a plan for how to bring what we needed across the channel. Since both my husband and I would be working from wherever we fancied, once these major things were sorted, we were good to go. All done, right?
Just like having the new organisational chart finalised and approved (!!), setting a transfer date, organising the necessary training and communicating who will be doing what and where in any corporate reshuffling, it was only the beginning.
It is the 'management' part of any change process
Necessary to have in place, and only the starting point of the 'actual' change: the change on the level of behaviour and what triggers behaviour: the underlying constructs people have of 'reality'.
For us, it wasn't until we reached the cottage we were going to call home for a while with a loaded trailer, that the real adjustments started.
Plans we had, didn't work out practically
The bikes we brought (you're Dutch or you're not, right?!) didn't quite fit where we had hoped, so we had to come up with a plan. No mobile coverage and the house phone can only take incoming calls..? Even the fact that the shower couldn't go properly cold needed solving (I know, sounds odd, if you want to know why that matters, read the blog I wrote about that).
Other plans needed finetuning still: from a general, high-level picture to a detailed storyboard, taking into account practical details we only discovered when we got there. Such as how do we actually get to school in the mornings, even when the road gets blocked by cows, trees or a fallen-over landrover? How do we keep it safe if a car comes up when we're whizzing down?
Where are the best suited nearby supermarkets, where can we park, how do we combine a school pick-up with a work meeting and shopping on a rainy day and with only one car available?
All of these little things you can't possibly know, let alone get a feel for, beforehand
Details that don't feel like details at all anymore once you're facing them. They take up an awful lot of mental energy – they simply have to be thought of, solved or planned. Suddenly you become aware of how much you normally run on autopilot.
All of this thinking happens, as Daniel Kahnemann calls it, in 'System 2', or 'slow thinking'. It's the part of your thinking in which effortful mental activities take place, like complex computations, but also anything new and unknown.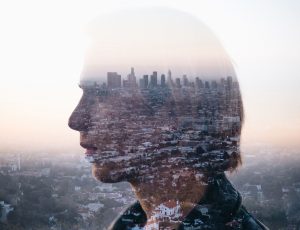 It takes over when things get difficult or simply too unknown
Unlike the autopilot-like System 1 ('fast thinking'), which runs on intuitions (whether true or false) and takes little or no effort, using System 2 takes up a lot of cognitive effort, of which people only have a limited amount available. On top of that, having to operate on System 2 often feels unpleasant and uncomfortable, so anything that can take the attention away, will disrupt it.
This System 2, though, is the only part of our thinking capable of doubt, which is the starting point for breaking up 'truths' people hold, including patterns and habits. It is only by activating this slow system that you have an ability to change the way System 1 works.
And that is what you want in an organisational change
You want to install, create, emerge or whichever term you choose to use, new behaviours and a new way of doing things (your 'culture') to become the new normal.
This means that those details that may bore or even annoy you when they come up ('just practical issues for which we need practical solutions'), actually provide a unique opportunity to work consciously on what it means to work in the new way because it activates the slow thinking sytem. Which offers a chance to work on changing the autopilot, fast thinking system.
The necessary effort involved itself is what triggers the possibility to open up old constructs of reality and start building new ones as the foundation for new behaviours and culture. So rather than waving them away, you want to seize the opportunity and spend time exploring these 'minor issues' together. In order to minimise the risk of falling back into old behaviours, you need to work on keeping yourself and the people around you in this energy-consuming system 2 when you can.
Like it or not, changing organisational charts, official documents stating how 'we do things around here', are nowhere near as unescapable as moving to a different country.
People have an amazing capability of keeping on doing what they did
Despite the plans made by senior management or external consultants, despite their good intentions.
This is why in Change 3.0 we put so much emphasis on co-creating the new situation, on experimenting with new behaviours, processes etcetera within the new framework, instead of a 'Big Bang' approach. It also emphasizes once again the importance of being congruent in your behaviour as a leader or initiator: any evidence of you not being serious about it is an escape for people's system 2. Even if to you it seemed only like a detail.
—
NB1: This blog also appeared in Dutch.
NB2: In our brand-new book Change 3.0, about how to facilitate organisational change from within, we also cover Kahnemann's research in relation to organisational change.